Investment Due Diligence
Did you know as a plan fiduciary you are considered an investment expert? Did you know that plan fiduciaries may be held personally liable for poor investment performance?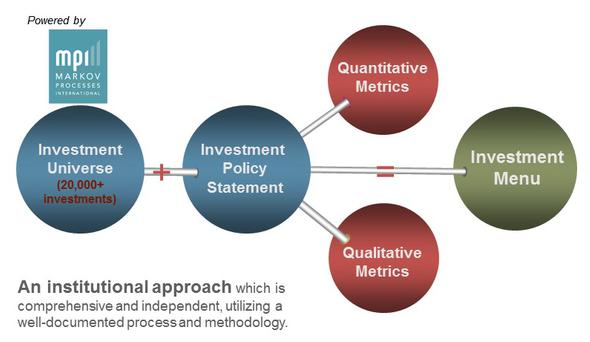 A solid investment due diligence process is critical for plan sponsors, trustees and fiduciaries. 401(k) & 403(b) Fiduciary Advisors helps navigate fiduciary responsibility through a robust, systematic, quantitative and qualitative investment analysis. Our due diligence process focuses on a cyclical approach of fund selection, monitoring and ongoing review.
Our retirement plan advisors will work with you to develop and adhere to your customized Investment Policy Statement (IPS). The IPS is a critical document that elaborates on the management of the 401(k) or 403(b) plan, where the trust documents left off. Your offerings will be measured against applicable indices, your existing recordkeeper's complete lineup and the broader market of possible investment options. In fact, upon an audit by the Department of Labor (DOL), one of the first requested documents is the Investment Policy Statement. Therefore, the IPS provides a definitive outline of steps that will be taken for the management, review and monitoring of the assets of the plan, and is evidence of the financial stewardship to participants. It also assists in the documentation of all investment decisions by providing a paper trail of policies, procedures and practices for investment decisions. During periods of market decline, the IPS can have a calming effect by reminding both plan sponsors and participants of the purpose of the chosen investment strategies and the risk inherent in the plan. The result is confidence that your plan's investments are diversified, well managed and meet the stated objectives of your investment policy statement.