Sponsor Services
At 401(k) & 403(b) Fiduciary Advisors, our Services focus on creating and maintaining a successful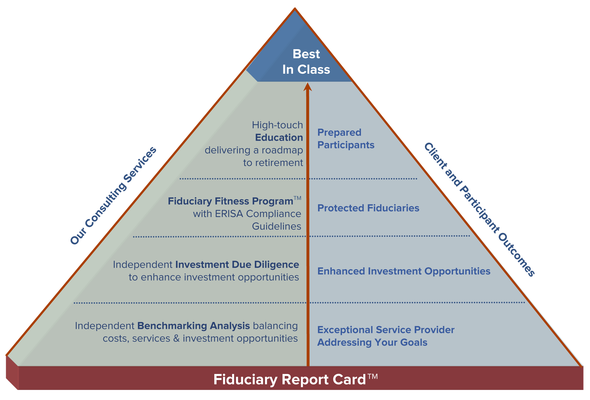 retirement plan. Just as every plan participant is an individual with his/her retirement objectives and goals, every plan sponsor has their own objectives and goals as well. As your trusted retirement plan advisor, 401(k) & 403(b) Fiduciary Advisors will design the best retirement plan for your company or non-profit and develop an ongoing service plan to meet your specific needs.

If you want a competitive retirement plan benefit to (1) support your hiring and retention of top-notch employees, (2) meet ERISA compliance and (3) be actively monitored by a professional, then 401(k) & 403(b) Fiduciary Advisors should be your retirement plan advisor.
 
---
Process:
Our retirement plan advisors will take you through a six step process that focuses on your company's needs, objectives and goals: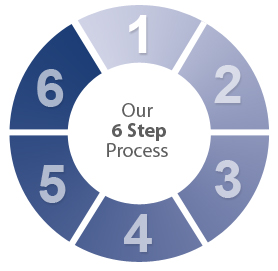 1.  Analyze Your Current Position – Perform a thorough review of your company or non-profit's needs, objectives and goals, then evaluate the suitability of your current plan recordkeeper and administrator in light of those parameters.
2.  Plan Design – Create a well-diversified portfolio of assets to match your risk/return parameters and formalize your specific investment objectives with a customized written Investment Policy Statement (IPS).
3.  Recordkeeper and Administrator Benchmarking – Complete a multi-step screening process using a combination of qualitative and quantitative measures.
4.  Implement Recommendations – Identify and select an appropriate new plan recordkeeper and administrator, if necessary, and supervise the conversion and implementation.
5.  Employee Communications – Conduct enrollment meetings and ongoing employee education.
6.  Ongoing Advice and Monitoring – Monitor investment portfolio performance and ERISA compliance to make sure everything is in line with your expectations, objectives and goals.
---
Plan Design:

401(k) & 403(b) Fiduciary Advisors will review the design and operational features of your company or non-profit's plan and provide solutions.

As change is constant, it is critical that the legal, compliance and design aspects of your plan are current.
Plan design begins with a thorough analysis of each employer's current plan and future needs along with employee demographics. We utilize an organized and systematic, yet personalized approach to help you make the most appropriate decisions regarding your retirement plan. Some plan design questions reviewed in our plan design analysis include:
How much of the employee deferral will be matched (if any at all)?
 
How long is the employee eligibility period?
 
How often a deferral change may be made?
 
The number of investment options to be offered?
 
How often the investment choices may be changed?
 
Will the plan provide for participant loans and if so, how much and how often?
---
Fee Benchmarking:
How much does your retirement plan cost? Plan sponsors face intense scrutiny by Congress and the Department of Labor over real or suspected ERISA violations. Failure to manage this risk is costly, and employee litigation is on the rise.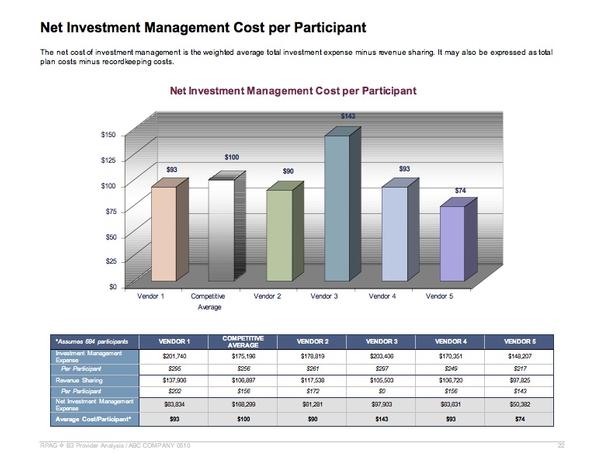 401(k) & 403(b) Fiduciary Advisors takes a proactive stance to help clients contain fees, expand provider services and enhance investment opportunities with our innovative fee benchmarking process and proprietary proposal system.
Our own unique process offers quantitative and qualitative metrics for a thorough and balanced analysis. We proactively meet with providers and stay current on products for ongoing due diligence of each provider's competitive advantages.
---
Investment Due Diligence:

Did you know as a plan fiduciary you are considered an investment expert? Did you know that plan fiduciaries may be held personally liable for poor investment performance?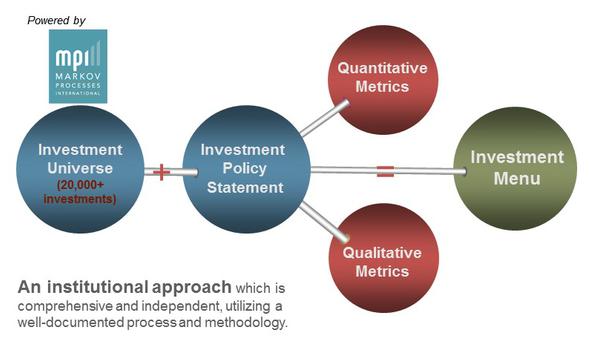 A solid investment due diligence process is critical for plan sponsors, trustees and fiduciaries. 401(k) & 403(b) Fiduciary Advisors helps navigate fiduciary responsibility through a robust, systematic, quantitative and qualitative investment analysis. Our due diligence process focuses on a cyclical approach of fund selection, monitoring and ongoing review.
Our retirement plan advisors will work with you to develop and adhere to your customized Investment Policy Statement (IPS). The IPS is a critical document that elaborates on the management of the 401(k) or 403(b) plan, where the trust documents left off. Your offerings will be measured against applicable indices, your existing recordkeeper's complete lineup and the broader market of possible investment options. In fact, upon an audit by the Department of Labor (DOL), one of the first requested documents is the Investment Policy Statement. Therefore, the IPS provides a definitive outline of steps that will be taken for the management, review and monitoring of the assets of the plan, and is evidence of the financial stewardship to participants. It also assists in the documentation of all investment decisions by providing a paper trail of policies, procedures and practices for investment decisions. During periods of market decline, the IPS can have a calming effect by reminding both plan sponsors and participants of the purpose of the chosen investment strategies and the risk inherent in the plan. The result is confidence that your plan's investments are diversified, well managed and meet the stated objectives of your investment policy statement.
---
Provider Searches:

It's time consuming and confusing to research and analyze a new 401(k) or 403(b) plan provider.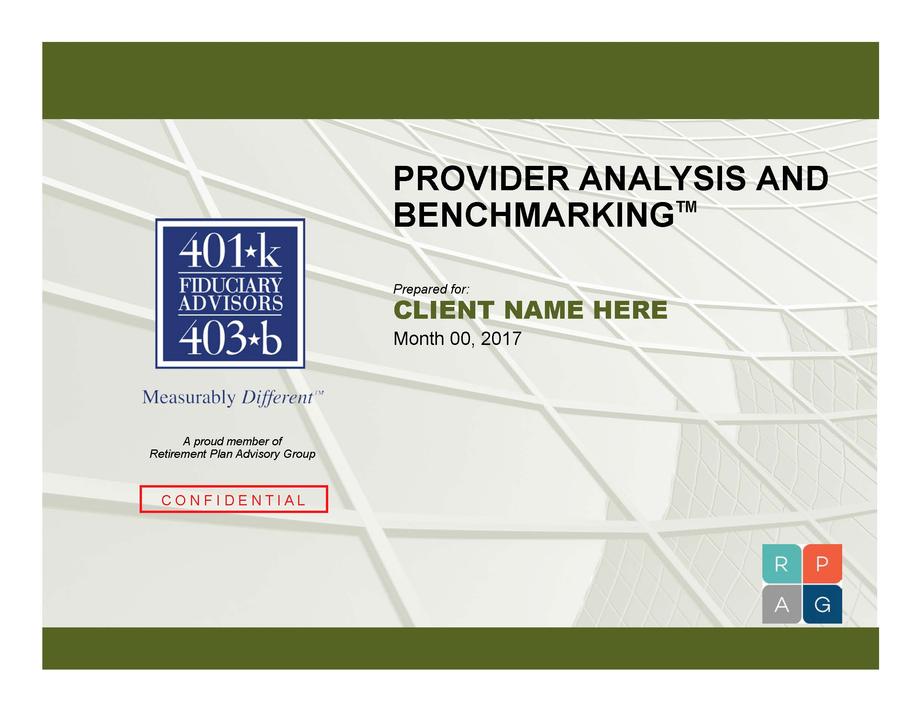 401(k) & 403(b) Fiduciary Advisors has the experience and expertise to search the marketplace and find the best possible retirement plan at the most competitive cost for your company or non-profit. We manage the entire process from the initial proposal requests, to the analysis, to final recommendation, and even assist with conversion and implementation to your new plan.
We continually survey plan providers and perform routine benchmark reports for our clients to make sure plan fees are reasonable and plan performance is in line with market performance.
---
Fiduciary Compliance:

Surprisingly, many companies do not know their fiduciary responsibilities under the law. To gain perspective, they reach out to 401(k) & 403(b) Fiduciary Advisors for specific direction on how to guard against troublesome and costly liabilities.
ERISA (The Employee Retirement Income Security Act of 1974) was mandated in order to protect the retirement assets of Americans. ERISA §404(a) addresses fiduciary duties and §404(c) addresses protections for plan participant investment decisions. By implementing rules that qualified plans must follow, the regulations attempt to ensure that fiduciaries do not misuse plan assets. However, due to the number of regulations and the complexities of many of them, there is often confusion among the plan sponsors and a general lack of awareness of the liabilities that exist. In fact, depending on the infraction, fiduciaries can be held personally liable and sued for personal assets. Many retirement plan fiduciaries are more concerned than ever about their personal liability due to a number of factors in today's marketplace. Issues like the volatility in the stock and bond market, pension law reform, corporate and mutual fund misconduct, retirement plan recordkeepers and administrators exiting the business, mutual fund consolidations, an increase in ERISA civil suits and a greater scrutiny of retirement plans by the Department of Labor (DOL) all come to mind. Combine these issues with a looming crisis of inadequate retirement savings by plan participants, and the potential threat to fiduciaries is considerable.
401(k) & 403(b) Fiduciary Advisors' fiduciary compliance resources and consulting expertise helps to protect plan fiduciaries and executives from financial loss due to Department of Labor (DOL) and IRS penalties, as well as ERISA and employee civil litigation.
---
Communication and Education:

401(k) & 403(b) Fiduciary Advisors recognizes that effective employee communication and education is critical to the success of a company's retirement plan. It is important that a company or non-profit provide a consistent program of investment education to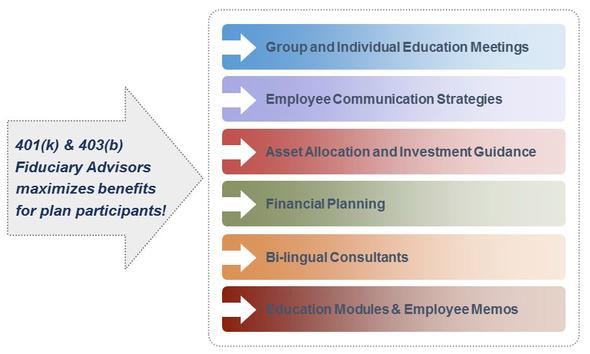 employees before and after they enroll. We work with the plan sponsor to determine the most appropriate communication and educational programs for their employees.
Our enrollment specialists conduct initial and on-site enrollment meetings to explain your retirement plan in detail, answer any questions your employees might have and assist your employees in the enrollment process. As your company or non-profit grows and you add new employees, our enrollment specialists will conduct new enrollment meetings as well as ongoing education seminars for other employees. All the materials are customized for your company. Multi-lingual representatives and enrollment materials are also available.
Our employee communication and education programs provide plan sponsors with the award-winning websites, enrollment and education materials needed to manage a company or non-profit's fiduciary responsibility, and increase employee understanding and plan participation.